This past weekend my dad and I set out to the Albany area to race the Tour of the Battenkill on Saturday.
The Battenkill is a 62 mile race through the hills of Cambridge, NY that always has a large turn out of super competitive riders eager to test their legs and chance against each other and the challenging terrain. While it is a road cycling race; the course has at least 6 dirt sections, most of which include some decently steep climbs as well as some gnarly high speed descents on mixed dirt and gravel. Some of the dirt was amazingly slick and smooth and fast, while just off that 8inch wide portion and for random sections of the entire road was a loose sandy-gravel-consistency which did a good job of keeping most riders in the saddle on the climbs and eyes peeled and focused on the descents.
I raced last year as a 4 and finished pretty well. This year I didn't have too many expectations as I tweaked my hamstring a bit about 3 weeks prior and since I had signed up long in advanced I had planned to come out to at least watch my dad, Bob Hadzor, in his first Battenkill adventure. The week leading up to it I was able to get on the bike and feel good a handful of times so my plan switched to entering the race, get through the 1 lane covered bridge in a decent position and try to hang with the lead pack and see what happens. My race was cat 3 yellow, and we went off at 10:10am; it was great to see a lot of  Central New York / Syracuse area riders there; mostly of the cyclocross persuasion which may be why most of them did quite well!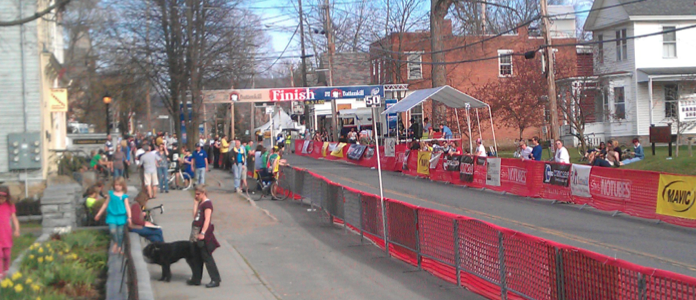 The race went well. It was a beautiful day, the sunny dry weather was cause for lots of dust to fill the nostrils, corners of the eyes and end up as a nice coating on bicycles, drive train, and any exposed skin alike. I was able to survive with no wrecks, or flats, and hang with the lead pack for just about the whole race. It got a little confusing at the second feed zone where our field over took another race field and our pack splintered a little. I got what commonly happens when you're towards the back half of the pack and the little splinters of attackers disappear and you think you're much closer to the front than actuality. We did some good honest work with a little 3 pack that ended up collecting a couple more riders as we chased and eventually with 1000meters to go I put in a surge in attempt to get to the 90degree turn for the finish stretch first (last year I was  stuck at the back of a pace line and the last portion was only 200meters or less so there was no gaining spots) this year the finish stretch was longer, but I went for it any how, and my legs had already started to cramp a tiny bit in the quads about a mile prior so I didn't have enough to separate solidly and ended up only beating a couple people in our finishing pack and ending up 46th which felt like at the time like about 17th. Disappointing as it was to see the place much worse than I had thought, I am overall happy with the race as my hamstring stayed intact; in fact felt strong… I may be in the market for a new front derailleur for my ol' 9 speed aluminum trek which I was racing against all the fancy carbon 10 speed new fangled bicycles, as Wes pointed out derailleurs are just springs and after 4 years of punishing riding you can't really expect reliable shifting.. which I suppose is decent enough reasoning why my chain didn't want to come down on to the little ring even if I asked it either politely or sternly. It only went on the first and last hill for some reason… perhaps it has a mind of it's own and wanted me to get a good training effort in even though it thought the back of the pack was a lame spot to be.
So yes. No flats, no wrecks, no injuries, just a nice challenging long ride.. good for training and motivation to keep training… harder!
Dads race reportedly had a similar bottom line recap. He let the pack go at mile 7 or around the first climb to race within his own heart rate range, wisely not wanting to 'burn too many matches' early on and be out of juice mid race. A good choice indeed as his pack too splintered as you can see in the finishing results. Bob Hadzor ended up finishing a solid 19th in his 55+ cat 5 race after basically TT'ing the rest of the windy dusty 55miles since the first climb. Remarkably maintaining almost 17mph on the hilly challenging terrain with out really working with anyone the entire way.
The later-in-the-day races rumor had it were even windier … I find it hard to imagine dustier but that's what they said.. as the announcer explained the heat from the day and the sun is absorbed into the road and then eventually given off as the cool air from the mountains finds it way down and then causes the winds to pick up thus making solo riding even more challenging. So, Dad/Bob was definitely happy with his race for training as he got a very solid TT effort at a higher pace than any training ride as of late at a very solid distance. All while staying up right, keeping the air inside his tires, and beating some fast ol' dudes along the way!
All and all good effort everyone out at the Battenkill! Notably Joe Mag had a solid ride for his first Battenkill adventure [recapped here], Nate Molinari had a solid top ten (in the money) finish in his first Battenkill in the cat 5 u35 yellow race, Fred Harle after flatting was able to TT his ass off for a 13th place finish in the cat4 pink, Ray Williard also finishing 13th in the cat4 yellow race staying right in the mix the whole way. Cliff Six, busting it out with an 8th place finish in the masters 60+ race!
It was great to see all the other CNY / Syracuse / Onondaga County Cycling folks who each had their own adventure, some sticking to their plans and racing great races, others more unfortunately having mechanicals and wheel cars choosing to let the other wheel car bring them what they needed to stay competitive 15minutes after… such is the misadventure of crazy-terrained-bicycle-races. You never know what can happen…
I'm pretty sure I saw a lead pack dude changing his own tube about 70% complete before the first wheel car came up… not sure if he was our field or not but even though I debated down to the last minute before setting off for the start line whether to carry CO2 and a tube. I think next year I will take it.. as I've gotten pretty quick at the repairs and worst case you can watch and hand the half changed tire off to the car if it gets to you before the swap is made. The weight is so little and it's early in the season even if it goes unused it's no big loss I think.
That's all for this recap for now, as I start to ramble on.
Great job to all at the 2012 Battenkill! Good luck with your training moving forward!